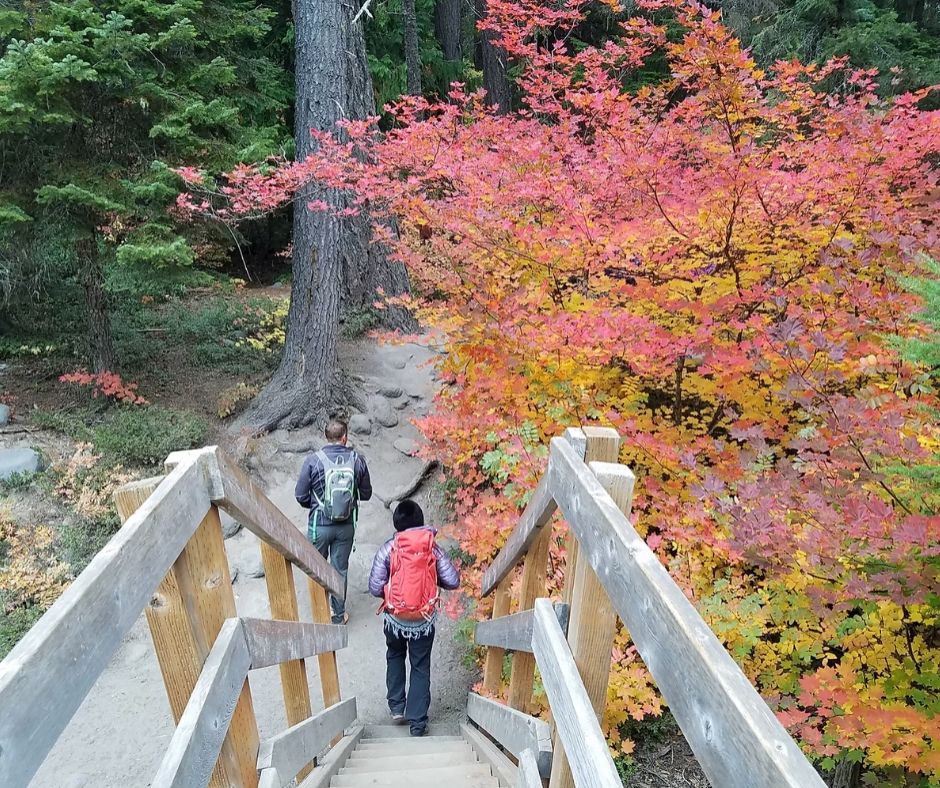 There are few things more stunning than stark fall foliage. One more reason to visit to the Pacific Northwest. Fiery reds, yellows, and oranges dot the sides of the highway, lighting your way to autumn. Don't miss out on trails covered in leaves and vivid colored canopies. The trick is to know just where to go to enjoy nature's seasonal light show. Here's where to go for some of the region's best leaf peeping. (Find directions by clicking on the video then scroll down to the car icon)
Tamanawas Falls (Mt. Hood, Oregon) - click for video
Located in the stunning Mt. Hood National Forest, this 3.3 mile moderately trafficked trail features more than a stunning waterfall. The topography varies from primary forest, to shell rock, then volcanic rock, traverse across two bridges and past numerous small waterfalls and rapids. Throughout the trek to the waterfall you're graced with sunlit yellow, red, and orange leaves demanding your attention from above.
Blue Pool (McKenzie River Area, Oregon) - click for video
This hike has certainly been discovered. Years ago it was a hidden gem but today be warned that if you venture here on a weekend after 9 am expect to share the narrow trail with plenty of other outdoor enthusiasts and novelists alike. That being said, it makes the list because it's an amazing hike with breathtaking fall foliage throughout the 5.5 mile journey. Lit up canopies are found peaking through the piles of black volcanic rock providing a dramatic contrast.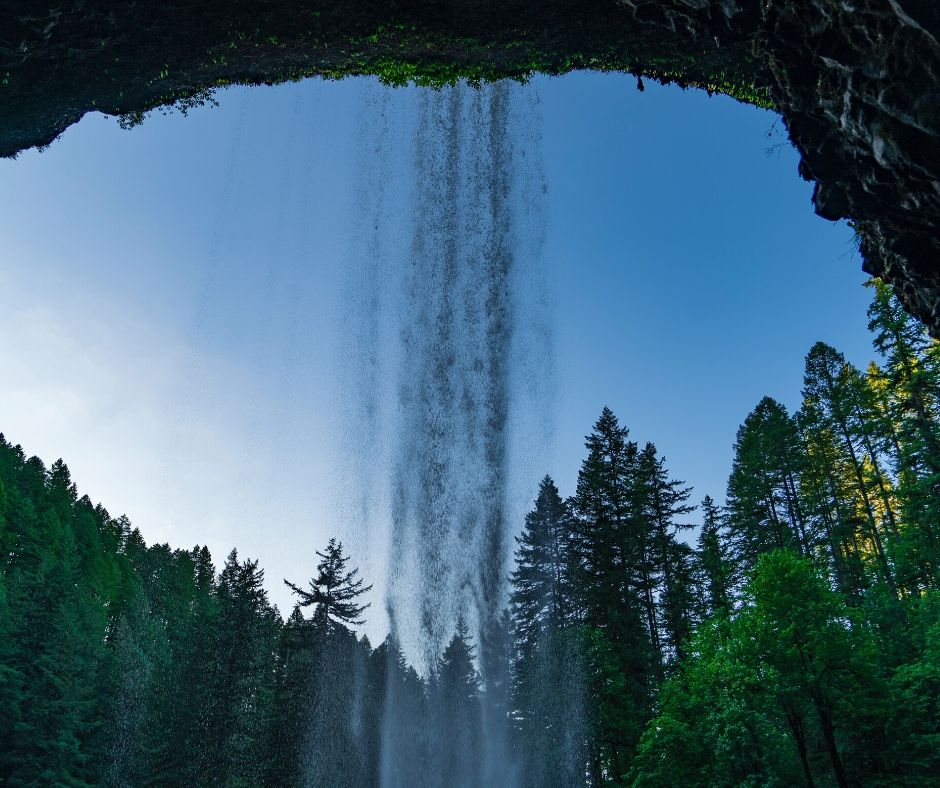 Silver Falls State Park (Willamette Valley, Oregon) - click for video
If someone told you that there was a state park where ten waterfalls resided within an eight mile hike would that blow your mind? What if they also told you that it was a stellar place to see fall foliage? It's all true. the trail is lined with hundreds of colorful trees. Tree like red alder and vine maple. The Trail of Ten Falls is well worth a gorgeous autumn day. A few of the waterfalls will be dried up, but it's still worth the visit.
Skyline Trail (Mount Rainier National Park, Washington)
Skyline Trail is known for jaw-dropping views of Mount Rainier and come Spring, one of Washington's most popular wildflower hikes. What hasn't gotten out, is the amazing fire-like display of red and orange shrubs that line the trail each autumn. The fields of red and green bushes provide a dramatic contrast to the snow-capped Mount Rainier.
Washington Park Arboretum (Seattle, Washington)
Just east of the Montlake Cut is home to The Washington Park Arboretum which hosts 230 acres of plants, some of which are magical in fall. Their Japanese maples leaves turn electric shades of pink, maroon, orange and red. The maples are not the only fall players in the arboretum. Witch hazel, black gum trees, sorrel trees, buckeyes, strawberry trees and mountain ash also show off every fall.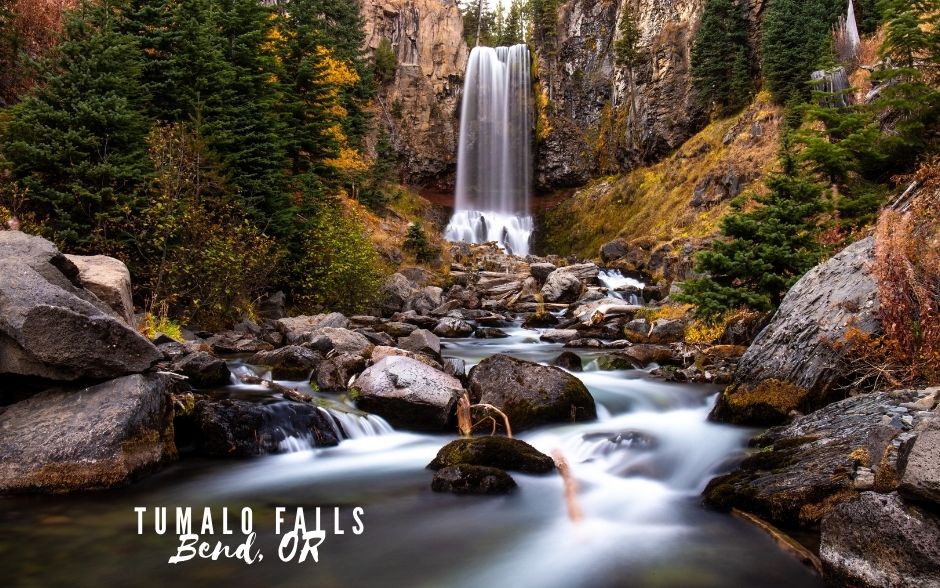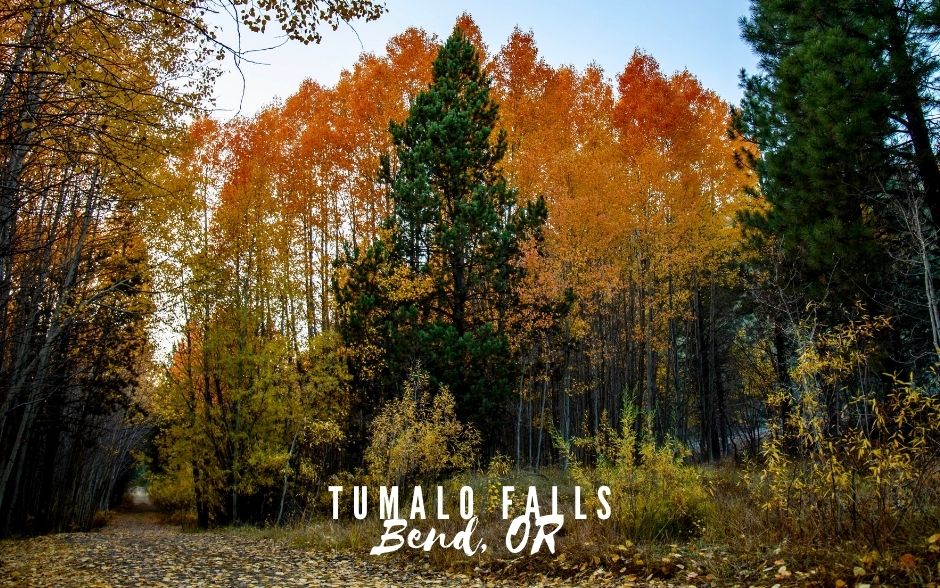 Tumalo Falls (Bend, OR) - click for video
The falls themselves aren't clad with color, however, there is a group of Aspen trees about 2 miles before the falls that will blow your mind. It's the best place near Bend, OR to retreat to fall foliage. Click HERE to see where this aspen grove is and what it's like. If you're looking for a fall photo shoot or Christmas card spot, this one will not disappoint.