There's a lot of pressure in wedding planning. As if a life long commitment to someone isn't pressure enough, our society has idealized "the wedding ceremony" to require nothing short of fairytale idyllic conditions. A white horse, thousands of dollars in flowers, an epic cake, and create a party that is the best anyone in your group has experienced. If your wedding doesn't measure up, you've failed...
I'm here to tell you, you have options. Don't buy into this horrific societal norm. Worrying about what everyone else thinks your wedding should be yields madness and a wedding you never wanted and a bill you have no idea how to pay. Instead, create a fairytale for just you and your spouse-to-be based on your collective passions. It's no wonder adventure weddings are on the rise! Eloping is a great way to focus on your inner circle, who matters most to each of you. If you're adventurers/outdoor enthusiasts then an Adventure Wedding just might be the perfect way to start your passion-based life together.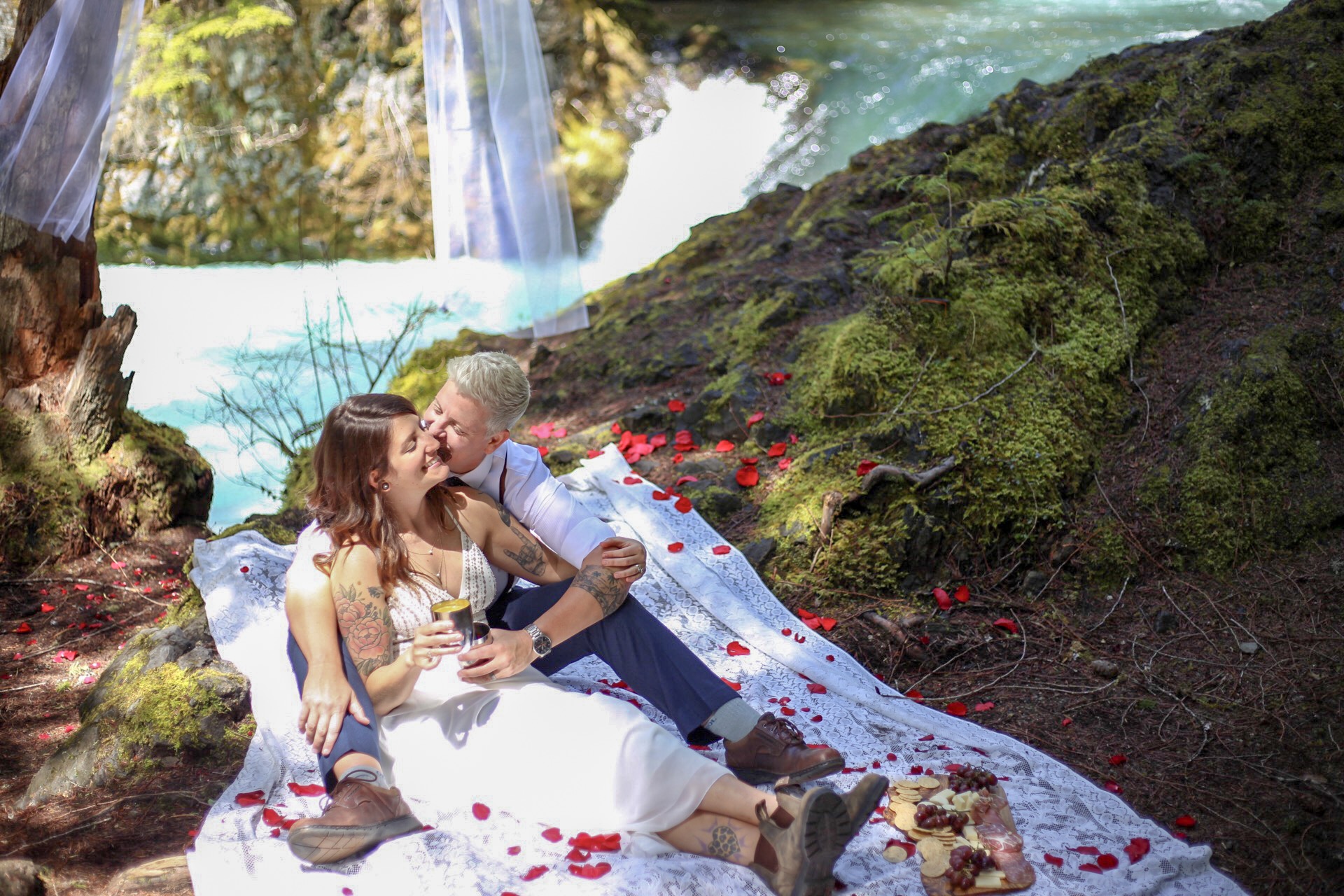 THE SPOT
In order to find the perfect location for an adventure wedding, you need to know what lights each of you up? Waterfalls, mossy forest, red rock, wide open spaces, the desert, lava land, the jungle, the beach? Where is your magic? Once you land on the terrain, think about the places you've adventured together and if any of them fit the bill and/or signify a special moment in your past. If you can't find a location that ignites excitement for each you, contact us and we'll help you out. Once you've landed on a location, you or someone you trust, should scout it out. If it's the later, have them take video of the area.
When my wife and I got married, we had a perfect spot in mind that we had visited a million times, but thankfully we scouted it out 5 days before our ceremony (5/5/19). The water level was higher than we've ever seen it which required us to move to a different spot in the area. It worked out better than our original plan, but had we not scouted it out, it would've really messed up the flow of the ceremony. We both needed to know how to get to the spot because our plan was to arrive in two cars.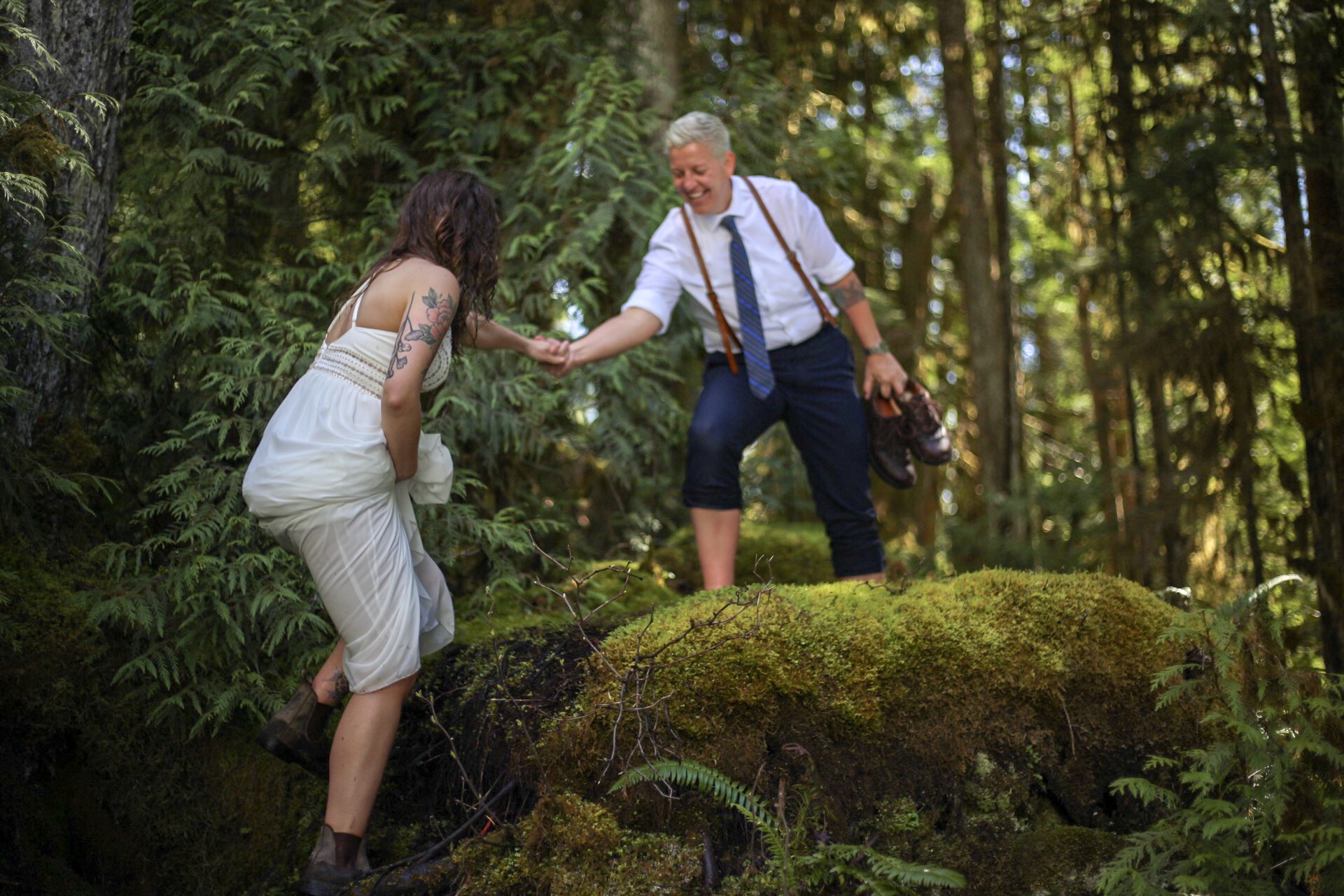 THE FLOW
The last thing you want is an awkward flow. We decided it made the most sense to arrive to the location separately in a car with a close friend or two. I was in the lead car with my close friend/officiant/photographer (one person lol) and we got a 30-min head start. I had a few surprises up my sleeve. I found a vintage runner, got some rose pedals, and a sheer piece of material that I draped as a focal point. Heidi, my wife, didn't know I was going to decorate. She thought I was simply going to set up a few cameras, make a cheese board (anyone who knows me knows I use cheese to celebrate everything... including Mondays...:) and pour the drinks (mimosas and Double Oaked Woodford Reserve) for a post ceremony toast.
When Heidi arrived, the ceremony was to start, no hesitation. We knew approximately the time she should stroll in, so we had our music on, and a lookout ready. When she was around the corner, we cued the song we had selected together on our bluetooth speaker, and the ceremony flowed as smoothly as our private waterfalls. We collectively wrote the "script" that our good friend read as our officiant, along with our vows. After our short ceremony, we all enjoyed cocktails and our magical scenery. Our own private waterfall to the left, and a tranquil creek wrapped with massive cedars to our right. We were on an idyllic island of sorts. After the bottle of bourbon was empty it was time to go...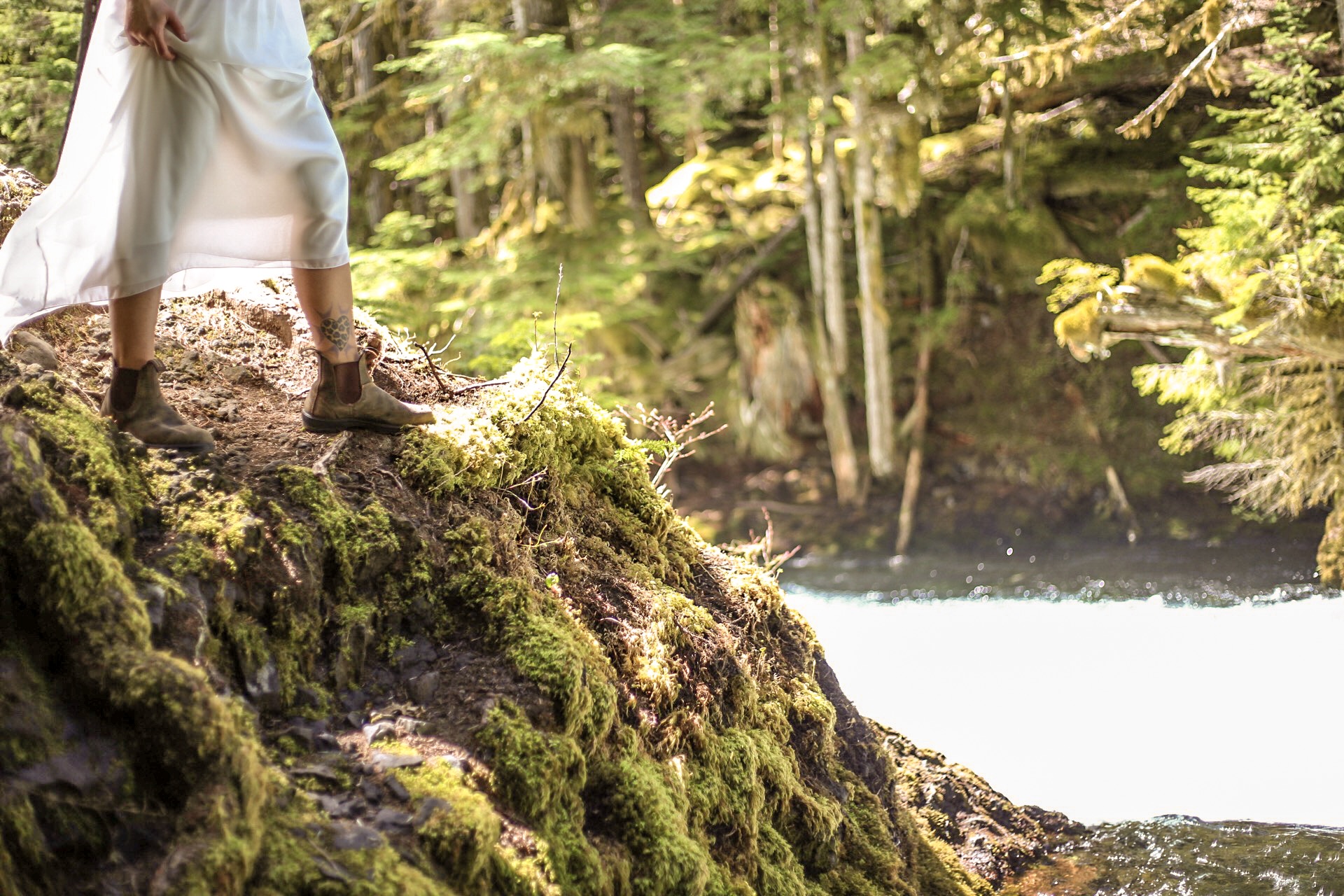 WHAT TO BRING
Cameras/video cameras & tripods
Bluetooth Speaker
Bridal bouquet
Simple decorations
Libations for a toast
Snacks
Inner circle (Take note and abide by the group max for your location. For us it was 12 people in this national forest)
Vows
Officiant :)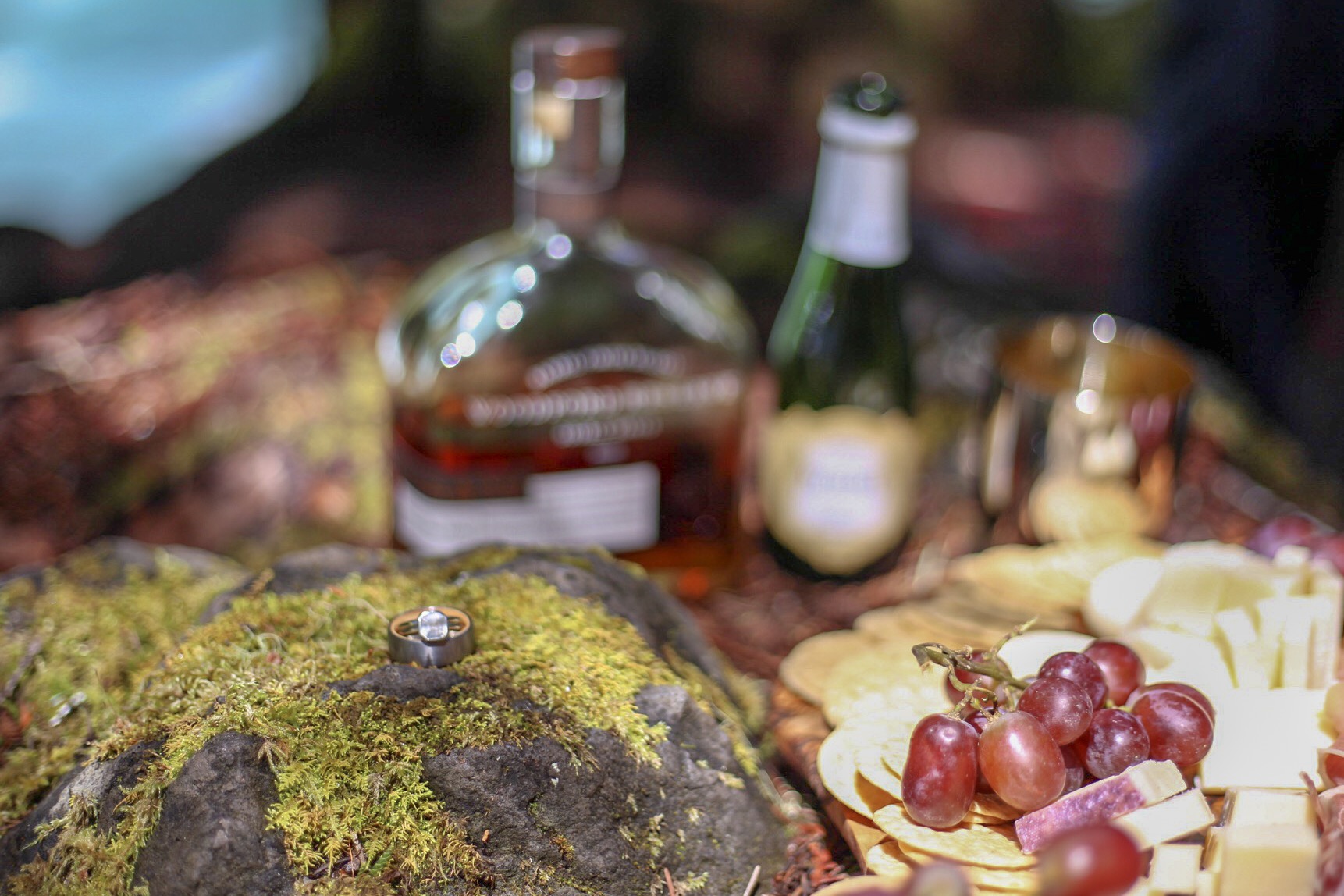 FAMILY / FRIENDS
Since we only had 5 of our friends at our adventure wedding, we wanted a way to celebrate with others. So we invited our in-town friends to celebrate with us that evening at a "happy hour." We chose the cozy bar we had our first date at (Velvet Lounge in Bend, OR) and our friends passed through to celebrate with us. It was simple and perfect. It was also really easy for our friends to remember, 5/5 at 5 pm. This was, by far, the best day of my life.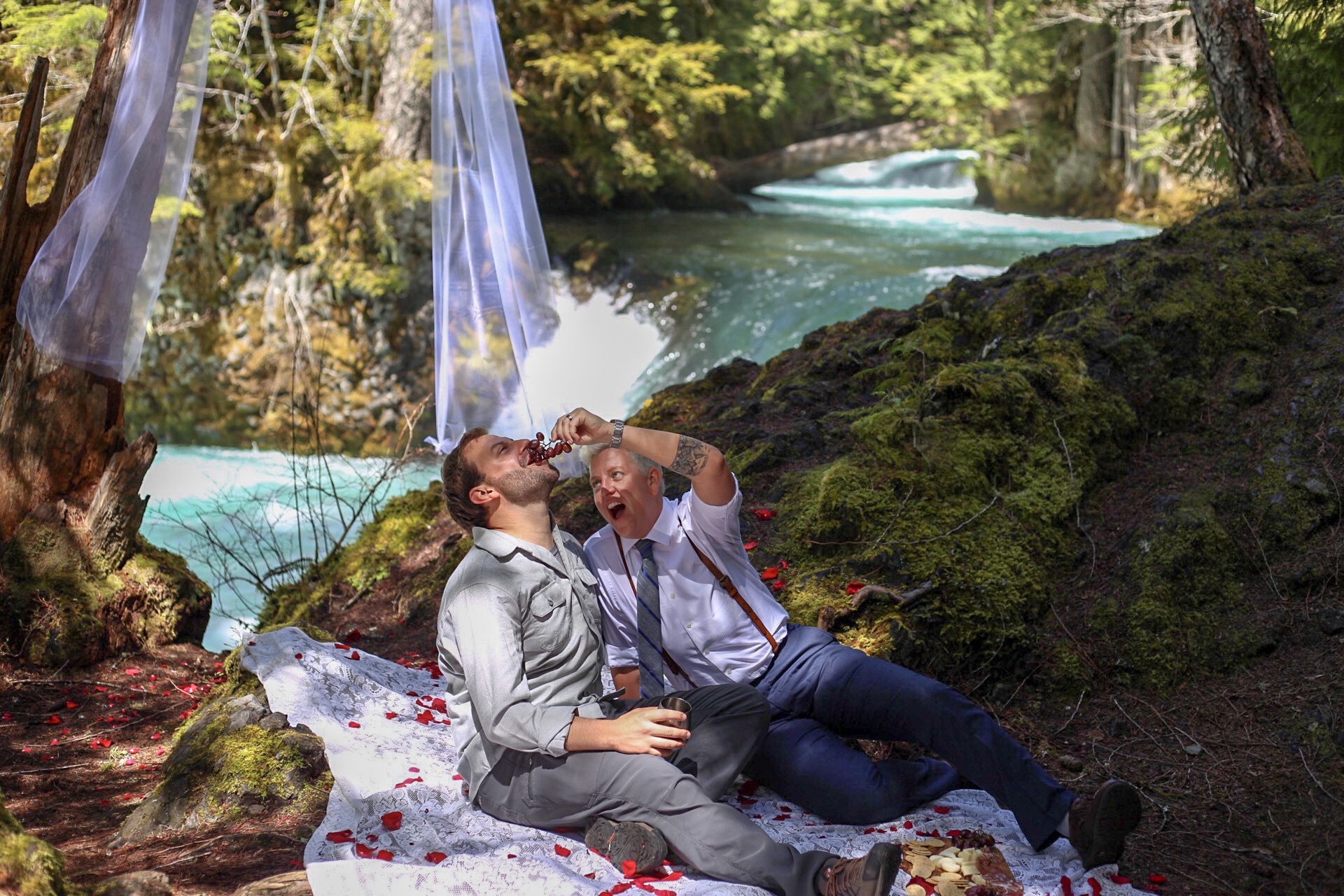 BUDGET
You can really go as big or as small as you'd like. Simpler is always better in my book, but you do you. My advice to others in love and looking to wed is don't over complicate it. Decide what you love and how you can integrate that into your ceremony. What matters to you both? If what matters costs more than a down payment on a house, take a good look at why that matters to you, the underlying reason, and see if you can recreate that in a simpler way. Don't worry about what everyone else thinks your wedding should be like. Love, passion, and authenticity are great cornerstones to build your wedding and new life together on. Hope to see you out on the trail someday!

Runner: $10
Rose Pedals + Bridal Bouquet (that we made ourselves): $35
Sheer drape: $5
Double Oaked Woodford Reserve: $50
Mimosas: $12
Cheese Board: $25
Videographer: Free, we had 3 cameras that we stationed around the ceremony and 1 GoPro that I gave to a friend to record Heidi's way in.
Photographer: $70 bottle of Angel's Envy as a gift. We are crazy spoiled to have an incredibly gifted photographer as a close friend and our officiant.
Bride's Dress: $80
My outfit: I had everything except the suspenders $30
TOTAL: $180